Ken
Developer




Joined: 27 Mar 2006
Posts: 4016

Maybe.

Does the Trackpoint show up as a mouse in ControllerMate? If so, then you should be able to do something like the setup below. This was setup using a mouse, so it may or may not "feel" correct when using the Trackpoint.

Before proceeding, you should really have an external mouse available. The following setup involves disabling the Trackpoint's control of the cursor. If it is done incorrectly, you could find yourself without the ability to control the cursor with the Trackpoint -- an uncomfortable experience.

The following setup uses button #4 on a mouse to enable a group named "Scroll Function" when it is pressed.




When the Scroll Function group is enabled, the building blocks on the "Scrolling" page link the mouse's Y Axis value to the Scroll wheel on a virtual mouse. The Value Selector is used to reduce the sensitivity of the scrolling. Note the "Center Value" and "Deadband" values.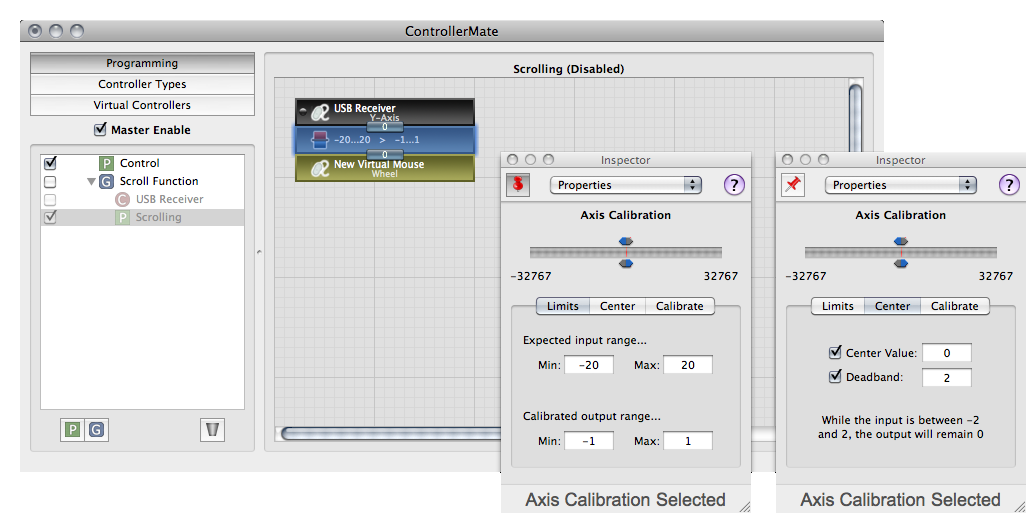 The virtual mouse is setup as such: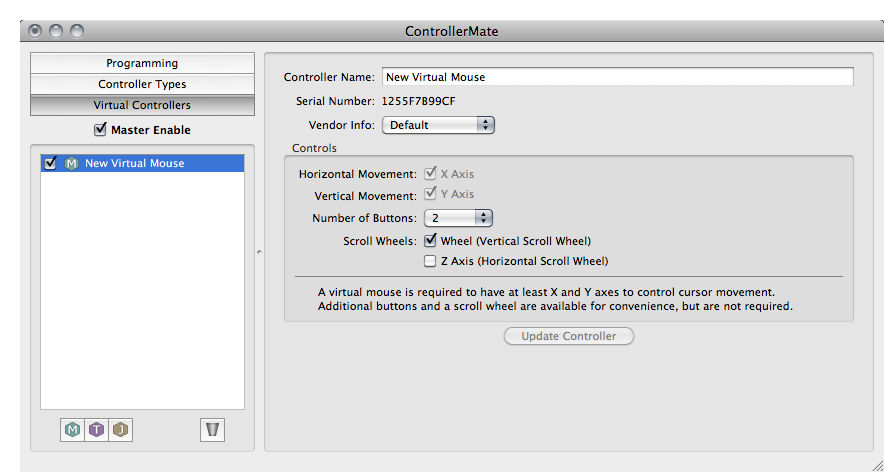 Alone, the above settings will cause the mouse's vertical axis to control the virtual scroll wheel. The mouse will still move the cursor on the screen. To prevent the cursor from moving while scrolling is occurring, a controller configuration can be created for the mouse that disables the cursor axes:




Scroll sensitivity might be an issue. ControllerMate doesn't have scroll axis acceleration so the options are limited. Adjusting the Deadband value of the Axis Calibration block is one way to modify the sensitivity.
_________________
Ken
www.orderedbytes.com - www.controllermate.com
ControllerMate -- Programming controllers for Mac OS X since 2005.